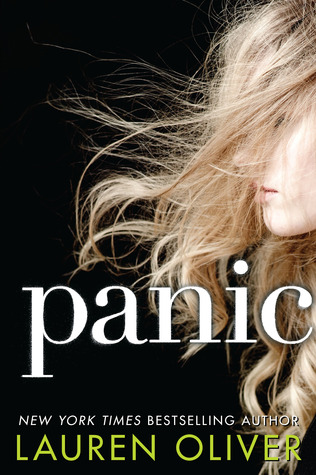 Date finished: 14 December 2014
When I first read the blurb of this book I was a little wary of the "new alliances, unexpected revelations, and the possibility of first love for each of them" line, but I was pleasantly surprised when the book turned out to be original and unclich

é

d, and found myself liking it more than I'd expected.

I loved how the book took me on a rollercoaster with its twists and turns, leaving me guessing as to what would happen next. I knew from the moment the tigers were introduced that they would have something to do with the climax of the novel, but I had no idea what. I also felt anxiety when Nat told Heather to drive Dodge's car for the final challenge at the end, knowing just how that would endanger Heather. I didn't expect the winner (I won't spoil it for you) to win, so that was a nice surprise. The feeling of suspense you get throughout the novel makes it hard to put down once you start reading, and that is the first sign that any book is a good one.

The whole concept of this game, "Panic", where these teenagers risk their lives in a series of challenges over the whole summer in order to win a huge amount of money is a creative one. It's not like The Hunger Games, where the tributes have no choice but to participate, and have to kill their opponents to win. In Panic, the players have all decided to play for their own reasons - usually the money - and they all know each other. It's just as ruthless, but there are legal issues and it's not publicised. So no, Panic is not just another Hunger Games, and I think it is actually better. The fact that this book only came out this year and the film rights have already been sold to Universal just goes to show how great it is. And it will make a fantastic movie - you'll feel for the characters, despise the antagonists, and be kept in suspense.
The writing itself is pretty good, too. It's nothing special, but it's clear and descriptive enough that you can picture what's going on, and it gets the message across. Lauren Oliver doesn't show off by using fancy language features when the story itself is interesting enough and doesn't need to be embellished.

The characters all had their distinct personalities and goals, which was a bonus. I sympathised with Heather, wishing she could leave Carp behind, and Dodge, wanting to get revenge for his sister, was also believable. Heather and Dodge had surprisingly similar problems with their families, and from the blurb I first thought that they would get together. Thankfully, that was not the case, and it was made clear early on that they wouldn't happen. They both get their happy ending, though - that's what matters.

Overall, Panic is a great new YA novel and I enjoyed it a lot. I would recommend it to anyone who likes YA fiction but is sick of the dystopian genre and the usual trope of the two leading characters ending up as a couple. Take it from me, and pick it up!