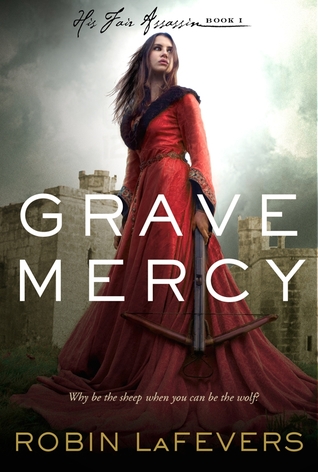 Finished reading on: 20 April 2016
Clickbait summary: Misandrist in Medieval Brittany joins cult that kills men, falls in love with man.
The Good
The red dress on the cover
The weapons (main character Ismae is an assassin, so she's got a couple)
Medieval setting and all it entails (dresses, castles, mistresses, court politics, etc etc)
Believable worldbuilding
Realistic and sympathetic portrayal of women for the setting
Interesting, or rather, intriguing politics! I never used to care for the political aspects in fiction, but recently I've found myself getting into it.
Theme of loyalty
Decent characters (not brilliant, but better than average, I think)
Good writing
A real page-turner
Language slightly old-fashioned to match setting
The Bad
Is this a feminist story or not? I don't know! In some ways, yes; in others, no.
Would've liked to see more of Ismae's gal pals Annith and Sybella (apparently the next two books in the series are about them, which is great, but I can't cope with more assassins falling in love)
A bit long at 550 pages
Misleading summary - Ismae doesn't fall in love with a man she's meant to kill, she gets orders to kill the man she loves, and it's not as big a plot point as it sounds.
[Spoiler] Healing by sex?! Soooo convenient.
The Ugly
Low-born girl falls in love with nobleman. Really? AGAIN?!
Why the romance? Why? They could've just been friends or allies! (I need my romances to grow over a couple of books, if they have to exist at all, because I find it super boring once the characters are properly together. That's just me, though.)
I thought the protagonist had been set up as a man-hating lesbian assassin... and then she fell in love with a guy. (Where are all the medieval wlw? Not in this book, apparently. I'm going to have to write the wlw assassin historical fiction myself.)
Okay, clearly my main problems with this book are the romance and the lack of diversity. The rest was pretty good.
The Summary
Why be the sheep, when you can be the wolf?

Seventeen-year-old Ismae escapes from the brutality of an arranged marriage into the sanctuary of the convent of St. Mortain, where the sisters still serve the gods of old. Here she learns that the god of Death Himself has blessed her with dangerous gifts—and a violent destiny. If she chooses to stay at the convent, she will be trained as an assassin and serve as a handmaiden to Death. To claim her new life, she must destroy the lives of others.

Ismae's most important assignment takes her straight into the high court of Brittany—where she finds herself woefully under prepared—not only for the deadly games of intrigue and treason, but for the impossible choices she must make. For how can she deliver Death's vengeance upon a target who, against her will, has stolen her heart?